Comedy is for closers! Laugh and learn about the counter-intuitive business models available to sell anything except time! Live @ the Improv
About this Event
Sales are directly involved in your success as a professional, and for the entire economy! Not to place a burden on you or your line of business, but if you can't conduct transactions, you will be transacted upon.
If you do learn how to conduct transactions, you can develop a mastery in providing society solutions! (Comedy included) This in turn will bring success into your life, your wealth, your value and create the lifestyle of your choosing.
Laughwise presents How To Sell Anything Except Time is like a TED talk and stand up comedy show combined to create a fun experience, and easily inform you on what successful salesmen already know, and it has nothing to do with your product or service!
Simple, sophisticated and to the point, this seminar is recommended for any level of profession, whether you want to get started in business or already sell millions in loans. I will humorously show you how to sell ice cubes to eskimos, or ketchup popsicles to women in white gloves.
Free to attend if you make your seating reservations online in advance otherwise it's $20 at the door.
Saturday October 26th, 4PM, doors open at 3:30
2 drink minimum inside the showroom
Bring your business cards! We will have a networking event right after the show next door in Copper Blues, complimentary drink ticket included!
Tell your colleagues, business partners, co-workers, this is going to be fun you'll want to share. It is free to attend!
This presentation will have information based out of books soon to be announced!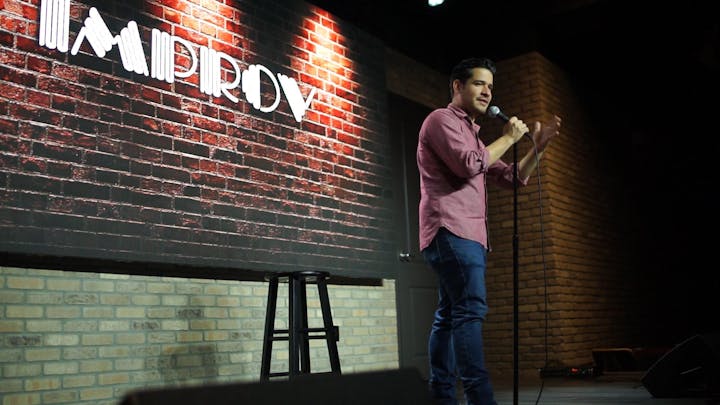 Presentation by Manny Garavito
Manny Garavito started off comedy in his early 20's while he was a banker as a way to escape the corporate world and make fun of stuff.
After graduating FIU with a degree in Marketing, Manny knew if can sell millions in business loans, he can sell a $10 ticket to a comedy show. So he quit his job, left his South Beach apartment, sold his motorcycle and began a comedy movement in Miami, where people said comedy could not thrive.
He is now owner of MiamiComedy.com, MiamiNetworking.com, and ComedyCalendar.com, providing the locals of Miami laughs almost 7 nights a week, has been featured in his own documentary on Amazon Prime Video "Respect The Light" and brings professionals together in weekly Networking events to talk about business ideas and observe the opportunities all around us against all odds.
He is now embarking in starting Laughwise.com, a website harnessing the future of personal development in life and in business with humor.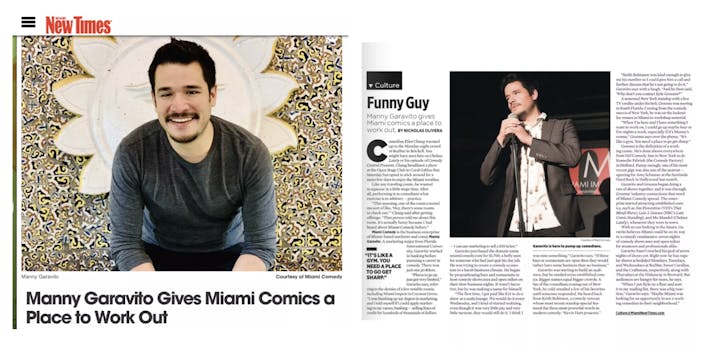 Manny Garavito has been featured on:
Questions? Get them answered here:
Phone/SMS/Text: 3054987739
Email: manny@laughwise.com